DALLAS / FORT WORTH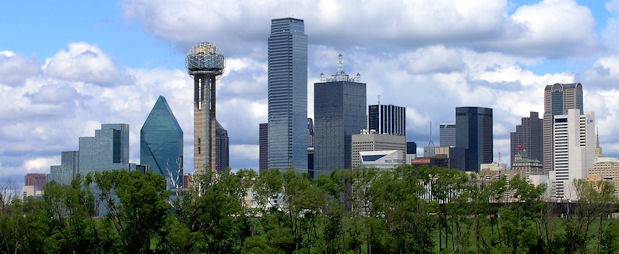 THE SHORT LIST:
Here is a list of restaurants that I highly recommend, along with dishes that I recommend.  The only order of the following list is alphabetical (assuming I didn't make any mistakes).:
The Blue Goose Cantina – Chili Con Queso, Chicken or Beef Fajitas
Bubba's Cook's Country – Chicken Tenders, Mashed Potatoes / Gravy, Baked Beans, and Banana Pudding.
Desperado's – Desperado Tacos, Fajitas
Hard Eight BBQ – Chopped beef sandwich on cheddar bun, 1/4 pound of "poppers"
Kenny's Wood Fired Grill – Fondue, Steak Sandwich (Medium-Rare–with the gravy and the horsey sauce), Vanilla Ice Cream & Bread Pudding.
Jake's Hamburgers– Jake's Special with fries. (Joe likes the sweet potato fries, Alicia likes the battered fries.)
Jasper's Backyard Grill – Maytag Bleu Cheese Potato Chips, Ribs, Mac 'n' Cheese, Rocky Road Ice Cream Sandwich
Javier's Gourmet Mexicano – Guacamole, Grilled Quail, Filete Cantinflas, Tres Leches Cake.  (Note:  ordering fajitas here violates rule #2 on the "Wall of Shame.")
Kuby's Sausage House – German Toast, Pancakes (either Traditional or Potato), Jalapeno Cheddar Sausage, Wurst Plate, etc.
Mariano's Mexican Cuisine – Frozen Margarita (Yes, they were invented here), Sundance Fajitas
Mia's Tex-Mex Restaurant – Queso Flameado, Brisket Tacos, Ernesto's Special
Neighborhood Services* – (Includes "Tavern," "Bar and Grill," et. al) – Fried Asparagus, Chicken and Waffles, Peanut Butter Rice Krispies Treats
Pappasito's Cantina – Chili Con Queso, Del Mar, Cheese Enchiladas, Jalapeno Cheddar Sausage.
Papadeaux Seafood Kitchen – Seafood fondeaux, fried alligator, Grilled Mahi-Mahi with Grits and Sausage, or Ginger Salmon with Risotto.
Penne Pomodoro – Any of the "Make Your Own" Pastas with Chicken and Pesto Sauce.
The Twisted Root Burger Co. – Chipolte, guac, and cheddar burger with sweet potato chips
Uncle Julio's Fine Mexican Foods – Chili Con Queso, Guadalajara
Reata** – Tenderloin Tamales, Carne Asada, Cheddar Grits, Dessert Tacos
Yumilicious (PKA Yogilicous) – Cake Batter Frozen Yogurt, Cookie Dough, Marshmallow Creme, White Chocolate, Heath Bar, Whipped Cream.
* – My favorite restaurant in Dallas
** – My favorite restaurant in Fort Worth
THE LONG LIST:
Here is a Google map that allows you to browse my favorite restaurants in my hometown (Dallas / Fort Worth).  These are all restaurants that I would rate as either 4 or 5 star caliber, and are in my common "restaurant rotation" when deciding on a place to eat.:


View List of Awesome Restaurants in DFW in a larger map