Category Archives:
Review
These are posts that contain a review, usually cross-posted on Yelp.com.
The following review was removed from Yelp for not being "primarily relevant to a consumer experience."
I actually see it as being relevant to many consumer experiences over my life.
Yes, even the part about Jack Welch and his previous leadership of the company.  I believe my statements about his "legacy of management" are still extremely relevant to all GE consumer's experience because Jack Welch's tactics encouraged fear and a "dog eat dog" culture at GE that led to a lot of corners that were cut.  (Corners like the quality of a refrigerator failing and actually heating food.  Hmmm.)  This directly affects customer experience.
My wife disagrees with me, but this is my blog, right?
General Electric – Rating:  1 half star 
    (Hey–we're not on Yelp now–I can actually DO that!)
First of all, I can't believe that no one has reviewed GE before. This surprises me due to the fact that they are the 4th largest global company in the world per Wikipedia. Perhaps the lack of reviews is due to the fact that no one really understands what they do.

GE is one of my least favorite companies in the world. Is there some product/service that they make/offer that I actually like? Sure. There's probably some company somewhere that they've scooped up along the way that they haven't screwed up. (Yet.) Statistics are in their favor that there's something that you use on a daily basis that has been made by them or one of their subsidiaries. But give 'em time! The odds ultimately aren't in GE's favor for making things better.

I've interviewed for jobs before at companies which were previously owned by GE, and they probably hate GE more than anyone else. This is due to GE's "legacy of management," which I'll describe after getting into a few other points.

The "straw that broke the camel's back" which resulted in me writing this review was the fact that I went to our refrigerator yesterday (which isn't that old) and the freezer is working but… get this… the refrigerator is actually HEATING the food contained in it. That's right, I said heating. When I opened the door, the contents of the entire fridge had been raised about 20 degrees and the butter had melted all over the contents of the refrigerator. I had to throw away all of the food in our fridge. I guess the point on this point is that they "They Bring Good Things to Life" and then kill them with a slow, surprising, and painful death.

Let's just talk about consumer products, shall we? I honestly can't remember ever saying, "Gee. I really love that GE *Insert Cool Item Name Here* that I purchased last week. I'm going to go recommend it to my friends." Now, being fair, GE's into a lot of other things that aren't classified as "consumer products" on a daily basis (weapons, locomotives, wind turbines, medical devices, etc), but generally speaking, the products and services that I've interacted with are so poor that I actively avoid buying things like GE refrigerators, televisions, and anything that has their outdated logo stamped on it.

Transcending the product discussion, those that read my reviews on a regular basis know that I am a Disney fanatic. As such, this review wouldn't be complete without mentioning their Epcot pavilion and dark ride. Ever have memories of riding horizons when you were a kid? Remember that the GE Pavilion was called Horizons, and it surprisingly shut down in 1994 right after GE killed their sponsorship of the attraction? Yup, you can thank GE yet again for killing another thing that we all love. "Imagination at work?" More like "Imagination without sponsorship, bulldozed into retirement."

When riding Horizons, remember that robot that had the huge mess in the kitchen? And somehow, all of the messy plates never got cleaned? Ironically, that's the only part of this ride that GE's actually been instrumental in making true for myself, at least from my refrigerator experience.

Perhaps there was one man who was likely responsible for ending the partnership with Disney who had his hands in the rotten aspects of GE? Let me introduce you to "Neutron Jack." Jack Welch (who was the CEO that probably actively ended the Disney / Epcot relationship) was a manager at GE that encouraged management by objective in a frightening way. Jack Welch was the guy at GE that annually would fire his bottom 10% of his company, and not think twice about it, regardless of anything else related to those employees and their positions. (Know how everyone is dreading getting a 1/5 on their performance review, no matter what company you work for, because you'll probably get fired? Just thank ol' Jack Welch.) His management style encourages a dog-eat-dog corporate culture of fear mistrust among employees–all to increase the bottom line (or the appearance of one) on wall street. This is never a good long-term strategy for management, in my opinion. This is the "legacy of management" that I referred to earlier in this review. Jack Welch created this legacy–he birthed this culture.

One day in MBA programs, we'll probably all look back on the decline of businesses of the United States and their "competitive edge" over companies in the rest of the world, and many of the negative long-term effects will probably be directly traceable to Jack Welch's management style & GE.

The same could probably be said about corporate loyalty (and the fact that virtually no one entering the marketplace today will end their career working for the same company they started at).

Here's my "bottom line" on this review: Avoid their products and services at all costs.
So, here's Joe's brief review of the top 10 Songs of 2012 (Sticking to the yelp rules of no half stars and no zero stars allowed.):
1 – Gotye – Somebody That I Used to Know:
 This song is totally whiny to me and lacks balls.  2/5 stars.
2 – Carly Rae Jepsen – Call Me Maybe:  She's joined the brotherhood of people with three names, along with Lee Harvey Oswald and John Wilkes Booth.  This time, she's assassinated my ears.  I hate this song.  It's everything I can't stand about pop music.  Probably my least favorite on the list.  I can't get to #10 fast enough.  1/5 stars.
3 – Fun – We Are Young:  I actually don't find this song audibly offensive, except that it's overplayed like crazy and it gets old FAST.  It's very 2 dimensional.  2/5 stars.
4 – Maroon 5 – Payphone:  Man.  Maroon 5 used to be pretty awesome.  Now they're just crashing and burning.  2/5 stars.
5 – Ellie Goulding – Lights:  Again, pretty typical pop stuff.  Not as bad as "Call Me Maybe."  She's kind of hot.  2/5 stars.
6 – The Wanted – Glad You Came:  What do I hate more than an American boy band?  An English boy band.  You may be glad I came, but please stay on your side of the Atlantic.  1/5 stars.
7 – Kelly Clarkson – What Doesn't Kill You:  Meh.  Sounds like all the other songs on this list.  But hey, DFW represent!  And she's also pretty hot.  2/5 stars.
8 – Rihanna – We Found Love:  No thanks.  I'll pass.  If I had a dime for each time she repeats "we fell in love in a hopeless place" I'd be a millionaire.  In fact, I think that's why she's a millionaire.  I'll bet that's in her contract.*  Obnoxious.  1/5 stars.
9 – Nicki Minaj – Starships:  This song is friggin' noise with shitty lyrics.  It has no redeeming qualities.  Just shoot me.  1/5 stars.  Enough said.  (If you can't identify the instruments, they probably aren't real.)
10 – One Direction – What Makes You Beautiful:  Another boy band from across the Atlantic.  Didn't Enrique Iglesias do this song two years ago anyway?  1/5 stars.
In case you're wondering, the first song on the Billboard 100 from this year that I can stomach (i.e. – 3/5 stars) is probably LMFAO's "Sexy and I Know It." And up to #69 (Coldplay – Paradise) until I find a song I actually find "iPod worthy."  I know the Billboard 100 certainly doesn't make it easy to see this, but please note that Coldplay ACTUALLY makes albums.
* – I'm fully expecting to get a legal notice requesting royalties for using the phrase "we fell in love in a hopeless place" in this blog posting.
Click here to see my review on Yelp.
Let me start by saying that my five star review extends to all Pappadeaux locations that I have been to. Service is consistently good, the food is excellent, and they're consistently top notch. And I've been to multiple locations–Chicago, Cincinnati, and of course, multiple ones in Texas (Dallas, San Antonio, Austin, and Houston…. you name it. I'll probably replicate this review in a few other locations which I have been to.)
Pappadeaux is arguably THE Pappas restaurant that has scaled the best throughout the US. (With the success of Pappadeaux, I'm actually quite surprised that Pappas seafood house hasn't scaled more. However, the Pappas family is known for their ridiculous attention to detail, and it shows–it certainly pays off.) The reason I'm given that Pappas seafood house hasn't ventured outside of the Houston metro area is that they want to be able to have fresh fish from the gulf for that restaurant concept daily. However, I've never had anything less than 100% outstanding at any of their locations. This is further shocking as I feel that I would think that the Cajun feel of Pappadeaux is more regionally bound to the Louisiana / Texas / Deep South. However, they seem to pack them in up in Ohio as well!
Anyhow, enough background, on to the good stuff. Let's talk food. I've personally had probably most of the things on their menu, but I'll write about the ones that are standouts in my mind notable enough in my mind that are worth mentioning.:
(Also, note that the portions are generally HUGE!!)
APPETIZERS:
Seafood Fondeaux (i.e. – Seafood fondue): With apologies to Monty Python and the Meaning of Life: "IT'S VERRRY GOOD AND IT'S VEERRRRY RICH." Mmmmm, mmmm. It's amazing. Probably not the best appetizer to get on a diet, however. But, it's absolutely wonderful. I'll warn you–it's very large, and I doubt it would be easy to re-heat, so I'd either make sure you've got enough folks to chow it down, or make a meal of it.
Fried Alligator: I know–you probably think this is weird. Jump in with both feet–it's like chicken but I think even more tasty. But each time I've had the fried alligator, it has been done perfectly with a fantastic tangy sauce to go with it.
Oysters on the Half Shell: This is one of the best places to get Oysters as well. (Being fair, I'm not a huge oyster buff.) In any case, if you like oysters, these won't disappoint.
ENTREES:
Ginger Salmon: I never liked grilled fish and ESPECIALLY grilled Salmon… until I had it at Pappadeaux. Now, I can't get enough of it. This is fantastic. Also, to try some different sauces, Pappadeaux will sell you (for a slight up-charge) some different sauces that you can try on the salmon. These include sauces from other dishes. I recommend trying the Lafayette Sauce, the Pontchartrain sauce, and the Diablo sauce. But why would you get the Ginger Salmon with Diablo sauce when you could get the…
Salmon Diablo: I've seen this as a special, and it's amazing. It's salmon with their diablo sauce on it. Think a cream sauce with crab meat, crawfish, and pico de gallo. Simply amazing.
Pasta Mardi Gras: Awesome. Very rich and decadent. This dish will kill your diet. This is basically a cajun seafood linguine with a cream sauce.
Stuffed Shrimp: Simply put, a feast. This is probably the best stuffed shrimp I have had. (One dish I had in Providence, Rhode Island came close.)
SIDE DISHES:
Mushroom Risotto: Absolutely phenomenal. It just melts in your mouth. And I don't even really like mushrooms all that much. It's worth the upcharge.
Dirty Rice: I'm a fan of the Dirty Rice as well.
(Also, I've never had them, but the Cheese Grits with the Andouille Sausage look phenomenal.)
DESSERTS:
I've had multiple desserts, but the banana pudding is a stand-out in my mind.
DRINKS:
They have Abita Turbodog on tap. This is essential for a true cajun experience.
I believe they also have Shiner Bock on tap.
And, most amazingly, I believe this is true in other states as well. That's especially rare I find for Abita.
Pappas Restaurant Group–you've done it again. Pappadeaux is another epic concept. It's easily one of my favorite restaurants. Check it out if you've never been.
(Click here to see this review on Yelp)
Pete and Jim Pappas (the owners of the famous Pappas restaurants, of which, Yia Yia Mary's is one of them) aren't Mexican or Spanish in their background, believe it or not.  (I know, I know–Pappasito's is awesome.)  They're also not Cajun (Pappadeaux  is also awesome also.)
Nope.  They're Greek.
And being in the great state of Texas, there's not a ton of really good Greek places.  Yia Yia Mary's is an exception.  This place is excellent.
But, I suppose, what did you expect, coming from a long line of great, ground-breaking restaurants owned by the Pappas brothers?  Note that all of the Pappas restaurants are available in Houston, as all of the original ones are in Houston.  They started here.  As a general statement for the other Pappas restaurants in Houston, go to the original locations, as they use those typically as more "flagship" locations–testing out new dishes before rolling them out to all locations.)
But enough about the Pappas restaurants.  (I know I am obsessed.)  Yes, the food is wonderful.  When I come here, I generally get the Gyros, as it's so rare to find good gyros in Texas.  I also typically get the Saganaki cheese (which, to no surprise, is done authentically here).  I've had other things here as well–nothing disappoints.
I think the atmosphere is really awesome–it's classy, clean, and welcoming.  It seems like most Greek places that I've been to are in old, established, somewhat run-down buildings (I don't know why this is….) but Yia Yia Mary's is well manicured, warm, and always inviting.  (Again, so are all of the other Pappas restaurants.)
I've had hit or miss on the service, but nothing the awesome food couldn't make up for.
Every time I go to Houston, this is one of the places I go out of my way to go.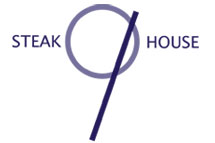 (Five stars, going on seven.  Read below.)
Click here to see my review on Yelp.
I'm not sure how I haven't reviewed N9NE yet.  This is inexcusable.  I thought I had.
I've only eaten here once earlier this year.  However, this was the greatest meal of my life.  And folks, I'm 29, I've got a food blog, and I've had a lot of time to think about it.  I'd give it six—nay. SEVEN stars if I could.
One may say that it may have been the company of folks I had at the table may have added unfairly to the experience (We went to N9NE as one of the stops during my epic Vegas bachelor party experience in March 2012).  Or, admittedly, I wasn't expecting N9NE to be as awesome as it was.  But I don't think so on any of these accounts…  The food was just incredible.  And Chef Barry was awesome.  More on that later.
We started off at the bar, where we had a couple of drinks and waited for our table.  the place was PACKED and it was clear that it wouldn't e easy to get a table…  However, we had a reservation.
As we were seated, the folks in my party immediately made a few observations of the folks sitting around us.  We had a number of famous folks sitting around us…  for some reason on that evening, they were mostly sports players–everything from UFC fighters to retired hockey players.
While all this is nice, on to the food.  We had a bunch of appetizers and the house bread (I remember specifically the pretzel-roll style house bread and the thinly-sliced Sashimi appetizer.  Both were excellent.  I was advised by one of my hosts that the Lobster Bisque soup was to die for.  However, I don't particularly care for lobster.  I decided to go (against his advice) for the Onion soup.
Perhaps as foreshadowing of the awesome within, the soup was presented to me in a beautiful All-Clad pan.  Classy.  Everyone else started on their Lobster Bisque, and I dug in on my solo onion soup.
Two words – Holy crap.  It was the best soup I had in my life.  I warn you–you'll never like any other kind of onion soup ever again.  Perhaps you shouldn't get it…  It will spoil you for anything else.  Don't say I didn't warn you.
I ultimately did try the Lobster Bisque.  It was damn good, also.  And I'll re-iterate–I don't really care for lobster.  But it was still damn good.  I let my host that was raving about the lobster bisque try the onion soup.  He (who doesn't normally care for onion soup) actually changed his mind and said that he liked the onion soup a bit better.
On to the main course.  I ordered the 8 ounce filet.  It was of the top 5 steaks I've ever had.  Be sure to get a nice steak sauce to go with it…  I think I either had the peppercorn or the horseradish.  But yes, the steak was cooked perfectly and outstanding.
Finally, on to dessert!  We had two dessert dishes that we sampled–the S'mores and the Donuts.  They were both awesome…  I especially loved the presentation of the S'mores.  In a nutshell, dessert was just as impressive as the courses that came before it.
After the meal, I only had one request.  I wanted to meet the chef.  Luckily, my host happened to know Chef Barry and was able to pull him away for a couple of minutes.  As icing on the cake, let me tell you–Chef Barry's one in a million.  He's one of the nicest guys you'll ever meet.  I had an opportunity to take my picture with him and his famous "door."  (If you have the means–it's an awesome photo opp…)  I wish I had thought to ask Chef Barry for his autograph.
In short, this is the kind of restaurant which I'd consider taking a vacation contingent upon eating here again.  Sure, it's quite expensive, but it is OUT of this WORLD.  You'll get your money's worth…  And you were probably going to go blow all that cash in a slot machine anyway.  Skip it and savor the flavors of N9NE.  Shame on you if you go to Vegas and don't eat there.  Make your reservations as far in advance as possible.
Click here to see my review on yelp.
I'm going to give Venetian Theaters 3 stars. It's on the same level of quality as the Studio Movie Grill, with a number of things that are better and worse. I'd imagine that if you live in Dallas, you probably have been to a Studio Movie Grill. As a result, I'm going to do a lot of comparing between the two.
I apologize to those that aren't familiar with the Studio Movie Grill, but SMG kind of sets the average in Dallas for this kind of entertainment. I'll also mention AMC's "Fork and Screen" as well. (I have not yet been to their cinema suites.)
Let's start with what's better at Venetian Theaters, and then we'll get to the things that aren't quite as nice.
Great / Better than Average:
-It's a family owned business, and it shows. The staff is very friendly and have gone the extra mile. They dress their employees very well, and they're very welcoming and cordial upon your departure. They've got AMC and SMG LICKED here.
-I've only been here once, but the food seems to be quite good. I may have just ordered a good dish (built my own pizza), but it seemed like the food was a step above where SMG is. I'd say it's on par with AMC here.
-Their chairs are much nicer than Studio Movie Grill, though not as nice as the custom-made AMC chairs.
-The stadium style seating works well no matter where you're sitting. You only have "counter" style seating in these theaters, so you don't have the "back of the row" table option, like SMG offers. I don't care for the back of the row tables, as in those cases, the stadium seating doesn't work well, and you have waiters walking in front of you to boot.
-The "down lighting" is effective for getting around the theater and getting into and out of your pockets / picking out your credit card / etc. (I.e. – there's ample lighting pointing down underneath the counter where your food is.)
-It seems like they have a pretty cool bar setup.
-The servers seemed to be pretty attentive.
Not So Great:
-The rows are narrow and don't allow for you to have much space in front of you. There's a bumper that prevents you from rolling back to get more room. I'm not that big of a guy (wide or tall), but if I was, I'd probably have a pretty substantial problem with the seating.
-The "down lighting" does not light up your food at all, making it difficult to eat your food. You have to use the lighting of the movie to help see where your food is. If you have finger food (like chicken tenders), this makes things somewhat difficult.
-The fresh paint and varnish smells are still somewhat intrusive upon eating.
-They need to do something with their lobby. They probably will, in time.
I noticed some other reviews complaining about where the switch was that you need to use to order food. I didn't find it obtrusive at all.
I think I'd be lacking to mention in my review that there's a TON of potential here. I will be back, and it will be interesting to see what improvements are made.
Also, I didn't take advantage of it, but keep one eye on Groupon. I think they periodically put out the "movie ticket and drink" deal for $6.00 a head on Groupon (again, similar to the SMG.) This is probably worth doing if you're on the fence and want to try Venetian, but aren't sure.
One more parting tip… I've never been to one of these types of places where the theater wasn't like a meat locker. It's always freezing in these types of places… Make sure to bring a fleece or something that you can put on / take off during the movie so that you're comfortable.
Click here to see my review on yelp.
I think that Mi Familia a little better than "A-OK."
I went for lunch today. For starters, I started chomping down on the chips and salsa. The chips and salsa are AWESOME here. Not in a Pappasito's kind of way, more in just a "classic Mexican joint" kind of way. There wasn't anything particularly special about the salsa, it was just a perfect–not too spicy, with a great texture and not too watery. The chips worked very well as well. The chips are notable as they seem to have some kind of a flavor (perhaps a kind of seasoned salt?) that has been sprinkled on them when you get them. It's awesome.
After I got done comping down 2 bowls of salsa, we then ordered a queso. The queso was very good as well (I'd probably give it 4 stars.) However, the salsa was so good that I kept going back to that.
For my meal, I ordered the chicken fajita lunch special (I think that's #11.) This was ok but a bit underwhelming… When I order fajitas, I'm pretty damn picky. I expect for them to come on a skillet, still sizzling. They don't do that here (at least for lunch.) They'll serve you the fajitas on a plate with rice and beans. The lunch portion seemed to have too much veggies and not enough chicken. The other thing that was kind of crazy is that they only gave me a total of 2 tortillas. I figure that if you're going to serve fajitas like this, if I was the restaurant, I would probably describe the lunch special as "chicken fajita tacos" and rolling them before serving them.
I didn't really eat the rice, but I did eat most of my beans. They were okay… I'd give them 2 and a half stars.
Our service was a bit slow–it took us a while to get our food and even to get rolling on our appetizer. (And there weren't a ton of people in the restaurant–most of them seemed to be on the patio, which looks happening here at lunch time.) Our server was nice, though.
I'd probably return, but for lunch, I'd probably go for the bean and cheese burrito and beef taco combo. (I forget what number that was.)
Click here to see my review on yelp.
As of this writing, this may be the best full-service restaurant in the Magic Kingdom.
Unfortunately, that's not saying a lot.
Background: There's only 5 total as of this writing (Be our Guest is soon to be added to the list, where Disney will start down the slippery slope of serving alcohol to the Magic Kingdom masses–a move which is probably causing Walt to turn in his grave as I type…).
If you want to strip out the food places that don't have face characters with a $30 picture built in (i.e. – Cinderella's Royal Table), or if you don't want a character buffet (i.e. – Crystal Palace, though the buffet isn't too bad), it's either Tony's, the Plaza, or the Liberty Tree.
I've never mustered up the courage to eat at Tony's. It gets fairly universally bad reviews. I'd probably steer away from it altogether. The Plaza is okay, but underwhelming. For the price, you might as well go quick service. But, you can make somewhat of a case for the Liberty Tree Tavern.
I've eaten here at least twice in my life… maybe three times. Here's my take.
Food:  Good, though better for adults. People call this a "Thanksgiving Dinner" type of place. They're right. But, I hate turkey, and I'm not quite that fond of Thanksgiving Dinner, even on it's proper night in November. I'd recommend the freedom pasta… and if you want a light but tasty lunch, ask them to split it for you. You'll get a good size sit down meal at a quick service price, and you won't feel like crap afterwards. The freedom pasta is actually pretty good!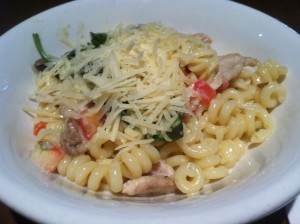 Value for the Price:  I think it's WAY too expensive at Dinner time, plus I don't want to eat a bunch of damn heavy food in an "all you can eat" fashion. That, and it's like 36 bucks before the tip. I think you get way more bang for your buck by eating here at lunch (for like less than half the price), and I also think the food options are better at lunch! If you're on the Disney Dining Plan–there are worse options, but there are much better ones as well.
Ambiance / Location:  Welcome to the Liberty Tree Tavern! Would you be seated in the "Crying" or "No Crying" section? Just kidding… the whole restaurant is the crying section! You're in the Magic Kingdom. Sorry to get your hopes up. But seriously, folks. Generally speaking, it seems to be a lot quieter than a lot of other options, especially if you can get a seat away from the main large room with the throngs of people waiting for a table.
Also, the theme works surprisingly well with the Liberty Square theme. (Probably my least favorite theme of all Disney park "lands." It's like a colonial urban sprawl of Disney World. I'd take the Blue Bayou and Cafe Orleans in New Orleans square ANY DAY over Liberty Square). But that being said, it works really well for where it's at.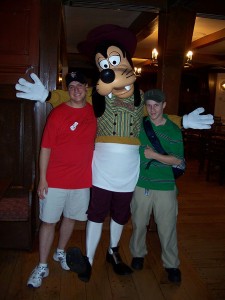 Extras:  They used to have the Disney colonial characters dressed up walking around in the evening. This was super awesome, and they should bring it back. (I imagine they don't because they don't have to…)
Reservations:  Like any other Disney restaurant, if you don't have an ADR (Advance Dining Reservation), you're a SUCKA and you're wasting your valuable park ticket time waiting for a Disney restaurant. Call 404-WDW-DINE and make your reservations AS SOON AS POSSIBLE. This is a no brainer. If you don't do this, you only have yourself to blame.
All in all, the Liberty Tree represents a good alternative to counter service for the price in the Magic Kingdom (at lunch), and the food's OK. (They still need to bring back the colonial characters, though.) I'd probably do it again.
Click here to see my review on yelp.
This is an excellent attraction, and probably one of the most innovative rides at Disney.
On a sadder note, this is one of the sole reasons I even bother going to the Animal Kingdom. The Animal Kingdom is probably my least favorite of the WDW parks. (And, I don't think that the eventual adding of "Avatar Land" is going to make the draw that much more. I wonder if anyone will remember the movie Avatar when it's added?)
Where to begin? Let's start at the beginning.
-Fastpass usually works very well for this attraction. So does the single-rider line. If you have the means, I suggest you use them. If you don't, arrive first thing in the morning and get your fill.
-If you don't do Fastpass, the line for this ride is actually very cool. You walk through different rooms that really add to the ride. You walk through a general store, offering items for mountain climbers and items from this southern Asia themed region, you walk through a museum talking about the Yeti, and showing artifacts related to it, and other interesting settings.
-Regarding the theming on Expedition Everest in general: As Disney generally does, Disney spared no expense on this one. It's a fact that this was the most expensive roller coaster ever built (and may very well still be.)
-Then, of course, the ride. When you arrive to the ride, they've made it look like an old rusty train. It's very cool, and it's a very smooth coaster. I don't want to go into too much detail, but the ride is basically Disneyland's Matterhorn Bobsleds on crack.
-The yeti operates in three modes.: A mode, B mode, and "off." At some point in the ride, you should see a full animatronic yeti. "A-Mode" hasn't been seen for quite some time, due to what I think is the degradation of the cement holding the Yeti in place. B-mode is probably what you'll get… B-mode is also called "disco yeti" mode. You'll see why. And of course, if you didn't see it, the Yeti probably is in "off" mode. In the opinion of this yelp reviewer, if you didn't see the yeti, you didn't really get to ride the ride. (And you'll know it when you see it. If a 22′ tall sasquatch-looking monster didn't jump his happy ass out at you at sometime in the ride, the Yeti was off.)
If they're ever able to turn "A-Mode" back on again, when you see the Yeti, you might crap your pants. Do yourself a huge favor–go on youtube and look up "Expedition Everest Yeti A-Mode." The video will give you an idea, but doesn't do it justice.
In any case, the ride is amazing, and a must-see at Disney. It's one of the few reasons to go to the Animal Kingdom (in my opinion) and definitely the best ride there. Make sure to check it out–no trip to Disney World is complete without at least one Expedition Everest run.
Click here to see this review on yelp.
I headed to the independence bowl with my wife to see the Texas A&M vs. Louisiana Tech game here in October 2012.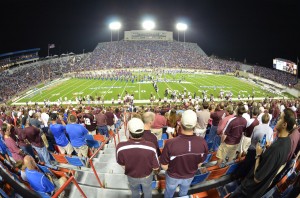 The game was exciting (with way too many penalties, most of which had to be reviewed like three times by each referee) and as a result, a game that should have taken like three hours ended up more like taking 5.  That's not the Independence bowl's fault.  But my frustration with the game was probably amplified with the lack of planning at the Independence bowl.
Going to the game was the poorest planned event I think I've ever been to.  If you're stuck with it, ARRIVE EARLY.  Here's how my experience reflected that it was in fact the most poorly planned event ever.:
–Getting to the game.  I waited on the off-ramp of the interstate to GET to the area where I couldn't park for literally half an hour.
–Parking.  The line to park was insane as well.  Eventually I gave up on this, gave some guy 10 bucks to park in some ghetto stone lot (and miraculously, my car wasn't towed upon my return.)
–Will Call.  There were two lines (though it wasn't clear where the two lines were), and waiting in each of them was probably an hour wait.  I never made it to the front of my line…  instead my wife said she was going to go look for another line, which she miraculously got through.  (The will call lines weren't well labeled either…  make sure you're standing in the right line, if there are multiple will calls.)  But then…
–Absolute lack of cell towers for the fans at the game.  After we split up to wait in different will call lines, I damn near lost my wife.  This was because we were supposed to call each other to say where we were so we could reunite.  The cell coverage in the stadium is so poor, I couldn't get a text message, facebook post, any data, and of course a telephone call to go through, after trying multiple times.  Yikes.  (Note that I have Verizon Wireless.)
–Stadium Staff.  No one seemed to be helping us find our seats upon our arrival.
–Seats. This doesn't have anything to do with planning, but the lower plastic seats (which at least provided arm rests and a back) were in such disrepair that I could have probably pulled an entire row off of the ground without much effort.
Other than that, it's kind of an old stadium, but somehow isn't incredibly dirty.  As I've said in my tip, the "diamond vision" seems to me like it should be more accurately named "cubic zirconia" vision.  Seriously, I've seen some high schools that have better screens than this.
Either way, I'm going to reluctantly give it two stars, as I did get in to watch the game in time (though, barely–we managed to make it to our seats during the national anthem.)
If you're going to go, ARRIVE VERY EARLY.  Like, 3 hours early.  No, I'm not exaggerating.  Keep in mind that this was a very large crowd for the stadium (the 5th largest crowd the stadium has ever seen), yet I had all of these problems and the STADIUM WAS NOT EVEN FULL.  Incredible.
Either way, if you take the precautions I outlined above, you should be fine.