Click here to see my review on yelp.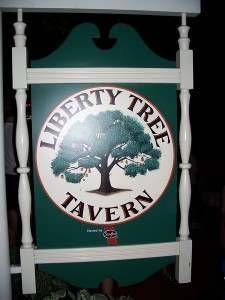 As of this writing, this may be the best full-service restaurant in the Magic Kingdom.
Unfortunately, that's not saying a lot.
Background: There's only 5 total as of this writing (Be our Guest is soon to be added to the list, where Disney will start down the slippery slope of serving alcohol to the Magic Kingdom masses–a move which is probably causing Walt to turn in his grave as I type…).
If you want to strip out the food places that don't have face characters with a $30 picture built in (i.e. – Cinderella's Royal Table), or if you don't want a character buffet (i.e. – Crystal Palace, though the buffet isn't too bad), it's either Tony's, the Plaza, or the Liberty Tree.
I've never mustered up the courage to eat at Tony's. It gets fairly universally bad reviews. I'd probably steer away from it altogether. The Plaza is okay, but underwhelming. For the price, you might as well go quick service. But, you can make somewhat of a case for the Liberty Tree Tavern.
I've eaten here at least twice in my life… maybe three times. Here's my take.
Food:  Good, though better for adults. People call this a "Thanksgiving Dinner" type of place. They're right. But, I hate turkey, and I'm not quite that fond of Thanksgiving Dinner, even on it's proper night in November. I'd recommend the freedom pasta… and if you want a light but tasty lunch, ask them to split it for you. You'll get a good size sit down meal at a quick service price, and you won't feel like crap afterwards. The freedom pasta is actually pretty good!
Value for the Price:  I think it's WAY too expensive at Dinner time, plus I don't want to eat a bunch of damn heavy food in an "all you can eat" fashion. That, and it's like 36 bucks before the tip. I think you get way more bang for your buck by eating here at lunch (for like less than half the price), and I also think the food options are better at lunch! If you're on the Disney Dining Plan–there are worse options, but there are much better ones as well.
Ambiance / Location:  Welcome to the Liberty Tree Tavern! Would you be seated in the "Crying" or "No Crying" section? Just kidding… the whole restaurant is the crying section! You're in the Magic Kingdom. Sorry to get your hopes up. But seriously, folks. Generally speaking, it seems to be a lot quieter than a lot of other options, especially if you can get a seat away from the main large room with the throngs of people waiting for a table.
Also, the theme works surprisingly well with the Liberty Square theme. (Probably my least favorite theme of all Disney park "lands." It's like a colonial urban sprawl of Disney World. I'd take the Blue Bayou and Cafe Orleans in New Orleans square ANY DAY over Liberty Square). But that being said, it works really well for where it's at.
Extras:  They used to have the Disney colonial characters dressed up walking around in the evening. This was super awesome, and they should bring it back. (I imagine they don't because they don't have to…)
Reservations:  Like any other Disney restaurant, if you don't have an ADR (Advance Dining Reservation), you're a SUCKA and you're wasting your valuable park ticket time waiting for a Disney restaurant. Call 404-WDW-DINE and make your reservations AS SOON AS POSSIBLE. This is a no brainer. If you don't do this, you only have yourself to blame.
All in all, the Liberty Tree represents a good alternative to counter service for the price in the Magic Kingdom (at lunch), and the food's OK. (They still need to bring back the colonial characters, though.) I'd probably do it again.