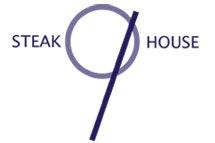 (Five stars, going on seven.  Read below.)
Click here to see my review on Yelp.
I'm not sure how I haven't reviewed N9NE yet.  This is inexcusable.  I thought I had.
I've only eaten here once earlier this year.  However, this was the greatest meal of my life.  And folks, I'm 29, I've got a food blog, and I've had a lot of time to think about it.  I'd give it six—nay. SEVEN stars if I could.
One may say that it may have been the company of folks I had at the table may have added unfairly to the experience (We went to N9NE as one of the stops during my epic Vegas bachelor party experience in March 2012).  Or, admittedly, I wasn't expecting N9NE to be as awesome as it was.  But I don't think so on any of these accounts…  The food was just incredible.  And Chef Barry was awesome.  More on that later.
We started off at the bar, where we had a couple of drinks and waited for our table.  the place was PACKED and it was clear that it wouldn't e easy to get a table…  However, we had a reservation.
As we were seated, the folks in my party immediately made a few observations of the folks sitting around us.  We had a number of famous folks sitting around us…  for some reason on that evening, they were mostly sports players–everything from UFC fighters to retired hockey players.
While all this is nice, on to the food.  We had a bunch of appetizers and the house bread (I remember specifically the pretzel-roll style house bread and the thinly-sliced Sashimi appetizer.  Both were excellent.  I was advised by one of my hosts that the Lobster Bisque soup was to die for.  However, I don't particularly care for lobster.  I decided to go (against his advice) for the Onion soup.
Perhaps as foreshadowing of the awesome within, the soup was presented to me in a beautiful All-Clad pan.  Classy.  Everyone else started on their Lobster Bisque, and I dug in on my solo onion soup.
Two words – Holy crap.  It was the best soup I had in my life.  I warn you–you'll never like any other kind of onion soup ever again.  Perhaps you shouldn't get it…  It will spoil you for anything else.  Don't say I didn't warn you.
I ultimately did try the Lobster Bisque.  It was damn good, also.  And I'll re-iterate–I don't really care for lobster.  But it was still damn good.  I let my host that was raving about the lobster bisque try the onion soup.  He (who doesn't normally care for onion soup) actually changed his mind and said that he liked the onion soup a bit better.
On to the main course.  I ordered the 8 ounce filet.  It was of the top 5 steaks I've ever had.  Be sure to get a nice steak sauce to go with it…  I think I either had the peppercorn or the horseradish.  But yes, the steak was cooked perfectly and outstanding.
Finally, on to dessert!  We had two dessert dishes that we sampled–the S'mores and the Donuts.  They were both awesome…  I especially loved the presentation of the S'mores.  In a nutshell, dessert was just as impressive as the courses that came before it.
After the meal, I only had one request.  I wanted to meet the chef.  Luckily, my host happened to know Chef Barry and was able to pull him away for a couple of minutes.  As icing on the cake, let me tell you–Chef Barry's one in a million.  He's one of the nicest guys you'll ever meet.  I had an opportunity to take my picture with him and his famous "door."  (If you have the means–it's an awesome photo opp…)  I wish I had thought to ask Chef Barry for his autograph.
In short, this is the kind of restaurant which I'd consider taking a vacation contingent upon eating here again.  Sure, it's quite expensive, but it is OUT of this WORLD.  You'll get your money's worth…  And you were probably going to go blow all that cash in a slot machine anyway.  Skip it and savor the flavors of N9NE.  Shame on you if you go to Vegas and don't eat there.  Make your reservations as far in advance as possible.