Click here to see this review on Yelp.
My wife and I had our wedding cakes done by the Cake Guys.
The cakes were incredible. My wife found the cake guys very easy to work with, and was equally surprised to learn that Chad (the baker she was working with) would be featured on a reality show about baking cakes with the "Cake Boss"!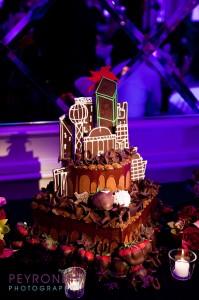 I personally didn't watch the show (I'm not a huge reality TV nut), but this made our cake even more exciting to me… and I hear it was a conversation piece at our wedding.
All reality television aside, our cake was amazing. For our wedding cake, we got the whtie cake with dulce de leche and for my grooms cake (which my wife designed for me) was a chocolate cake with peanut butter. Both were awesome–it was hard to determine which one was better.
Grooms – make sure you go to the cake tasting with your future brides. Man… that was awesome, and probably one of the more fun parts of wedding planning.
In any case, I would definitely recommend. It's great to be able to say honestly that our wedding cakes were the best looking and tasting wedding cakes we've ever had (and we've been to a LOT of weddings.)