Click to view this review on Yelp.
Unbelievable.
How did I not find Herrera's sooner? Potentially it's location, but… damn.
Herrera's is easily one of the better Tex-Mex joints in DFW. It's really popular (which adds to my shock in how long it took me to find it.)
One of my best friends and I were talking shop at his place, and we were talking about places to go for lunch. He mentioned Herrera's, and I told him I had never been, but I had heard about it in passing here and there. He told me we should try it out. We drove to the original one. It was a Monday, so it was closed. We were somewhat dejected… and we decided to try to find their other location. (This one.) So we did, and it was open.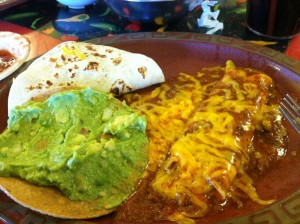 I ordered the Denise combo… and I believe our server was Denise. My buddy ordered another combo, who Denise told us was her twin sister. I forget what the name of his combo was, but I know it involved the sour cream sauce and chicken enchiladas. Actually, I had he Denise slightly modified to include a Bean and Cheese taco.
So yeah–when I think of Tex-Mex, there's different "general" flavors to me. There's the "fancy" Papasito's / Uncle Julio's flavor, there's the "Dallas-chains" Mi Cocina / Manny's / Taco Diner / Mia's / Luna de Noche flavor, there's some with a twist (lke Desperado's, Chuy's, and others like it) and then there's more the local, classic tex mex flavor. (Think, El Fenix, Los Lupes in Carrollton, and most of your standard tex-mex places.) I'd place this in the Classic flavor category… more specifically, I'd place it on TOP of that category.
We had the sopapillas for dessert. They were very good as well.
I've only been once. I don't usually give away 5 star reviews on my first go-around with any location, but in this case, I'm going to make an exception. Wow.